Nails add to the beauty of your hands. if they are rough, thin, broken, and short they spoil the looking of your hands and your grace is lost. Nails problems are increasing day by day. we are here to provide you with the best solutions to tackle the problem of brittle nails also we will inform you of the causes of brittle nails so that you can avoid their causes and stay safe and healthy.
Furthermore, If your nails are thin weak, and broken then you may have brittle nails. Brittle nails are a sign of aging but if these occur at an early age then it can be considered to be caused by the excessive use of nail paints and nail paint removers.
In the winter season, the cold and dryness of your nail is the main reason behind your brittle nails.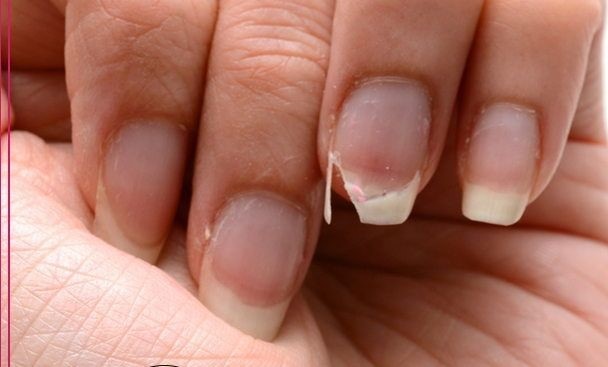 2-What are the causes of brittle nails?
Furthermore, Thin, rough, dry, and broken nails are called brittle nails. There are many causes for a person to have brittle nails. Its causes vary according to the nature of the type of brittle nails and the age factor involved in it the most.
there are the following causes for the brittle nails
Lack of calcium
lack of folic acid
lack of vitamin C
lack of keratin
Raynaud's syndrome
low thyroid levels
Age
2.1- Lack of calcium
Moreover, Our bones and nail cells are majorly composed of calcium. When there is a low level of calcium in our body bones cells become weak and thin. The low level of calcium causes your nails to thin weak and brittle.
2.2-Lack of folic acid
Folic acid provides the necessary strength to your nails. If you do have not enough levels of folic acid in your body or your diet your nails may break and look ugly.
2.3-Lack of vitamin C
Lack of vitamin C also causes your nails to break. They spoil the natural look of your nails.
2.4-Raynaud' Syndrome
It is a syndrome in which your fingers and toe feel numb and cool in reaction to heat and stress conditions.
2.5- Low thyroid level
A low level of the thyroid causes the nails to de-shape and remove the nails from their bed. It is also the most important factor which causes nails to break.
2.6-Age
Further, With increasing age, the level of the essential components also decreases and your nails may break and becomes thin with age.
3-Treatments of brittle nails How to cure brittle nails?
Moreover, Poor diet is the leading cause of broken nails. All you have to do is to maintain a balance in your life. Eat healthy items and get rid of these kinds of problems. there are the following measures with which you can treat the problem of thin and weak nails.
 3.1- Food for brittle nails
Walnuts
Soya
Chia seeds
Flaxseeds
Fatty fish
Salmon
Trout
Coconut oil
Biotin supplements
Oranges
Lemon
Eggs
Olive oil
Almonds
Food enriched with nutrients is required to treat the brittle nail.
Almonds have a high level of vitamin E . Furthermore,  Recent studies have shown that eating a hand full of almonds in a day provides strength to your nails and bone, and other brain cells.
3.2-Eating iron-rich food
Eating iron-rich food can solve the problem of brittle nails.
3.3-Hands protections
Moreover, There is a need for the person with a brittle nail to take care of his hand and protect his hands from dirt and chemical compounds present in detergents and other soaps.
Avoid using any kind of metal equipment on your nails
Regularly trim your nail and let them properly cut down
Use hand gloves
Don't use hard objects on your nails
Do not use too many nail paints
Do not use nail paint removers
Do not use bleaching powders on nails
Apply soothing lotion on nails
Don't let the nail skin dry and rough
Use medicated lotions
Don't get in touch with cement and petrol directly
Keep your nails neat and clean
4-When to see a doctor for brittle nails?
When the problem is not under control then there is a need to see a doctor and have your nails properly treated.
Most doctors advise using the biotin supplements orally. And Having these supplements orally can treat the nails breaking problem very easily these supplements provides strength to the nails and the nails breaking stops eventually.
Furthermore, Modern technologies have revealed many kinds of treatments for the nail, hair, skin, and another thing for human beings. But some people still rely on homemade remedies. it is not false that home remedies are not effective. These remedies are effective but are the time taken because their action of treatment is natural and slow.
When people don't get the results from the home remedies they just go to the doctor and seek a medical guide and hence they have the solution to their problems.
5- Care for brittle nails
Furthermore, There are the following caring measures for the nails.
Do not grow your nails too much keep your nails so that the chemicals do not attack your nails as the surface area is reduced
Keep your nail nourished and moisturized
Keep your nails clean
Do not eat your nails
Do not move your nails forcefully
By following all the treatments and preventive measures you can control the problem and have naturally beautiful and attractive nails
Moreover, Hydration is the most common factor among all. Being hydrated can reduce the risk of many kinds of diseases in human being your hair, your nails, and your all body cell, if are hydrated, can perform their functions well and normally. keep the level of water in your body to be maintained. Moreover,  All the biochemical reactions occur in the water and therefore its level should be maintained in the body to reduce the risk of problems.
Lastly, Aleecare is here to provide you with the best solutions to your daily care problems. All types of hair skin and other types of problems their causes and treatments will be carried to you and your problems will be solved. Follow all the steps and have beautiful shiny and thick long nails.