Everyone wants to have beautiful, good-looking, and healthy hair. but in this modern age, it has become difficult to have long shiny, and natural-looking hair. Furthermore, the diet content of the new generation is not so healthy. It has very adverse effects on your health. the unhealthy diet content not only affects your physical health it also weakens your brain cells and follicle cell. An unhealthy diet also causes frizzy hair. Moreover, it might also be possible that there are some other reasons for this problem. Now we are here to provide you with the best solution to get rid of frizzy hair.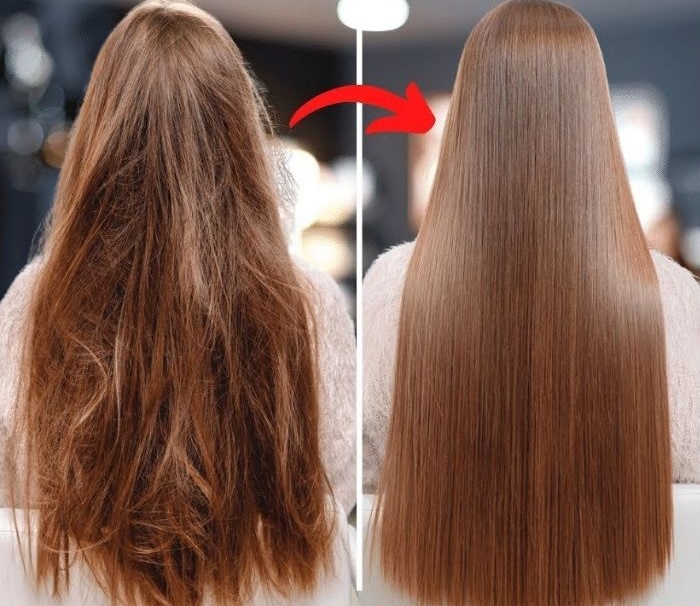 2 What are the causes of frizzy hair?
For every problem, there is certain kind of reasons behind it. Adding more there are many kinds of reasons for a person to have frizzy hair. A person with rough hair and split ends might have frizziness in his or her hair. Because these are the symptoms of rough hairs and dry also.
Here is the list of the causes fr this problem
The external environment has been found to be the most powerful factor in this age. The extreme environmental conditions damage the hair and cause dullness in there to look. A very hot and chill environment both are not safe for your hair.
Not only the external environment but also the application of the types of chemical products on your hair could be the reason.
Too much use of hair spray destroys the natural look of your hair and weakens them.
And the application of these spray products causes decolorization in your hair.
Moreover, the regular use of bleaching chemical products on your hair results in thin and rough hairs.
Furthermore, the use of a heating machine that operates on your hair has increased. these machines have been introduced by modern technology. These machines include hair straighteners, rollers, and step makers for your hair.
When these heating machines are applied directly to your hair they burn the upper layer of your hair. And your hair began to split at its ends in more than one direction.

Use of heating machines

The application of heating machines has been found to be the worst application on your hair ever.
But also some kind of serums have been introduced in the market to reduce the risk of heating.
People who do not use the regular timing of their hair can also get this problem.
Using detergents on hair for washing is also a major cause.
 Moreover Letting your hair be free in dusty air for a long time.
When oiling is not done regularly.
Use shampoo which contains items to which you are allergic.
Using low-quality shampoo.
When you do not comb your hair for a long time.
Lastly above-mentioned all the points are the reasons for a person to have frizzy and rough hair.
3Treatment for frizzy hairs
Solutions to any problem have been made possible by the use of modern technology there are also many kinds of treatments that are available for you to get rid of Frizzy hair. And have long shiny attractive and natural-looking hair at home. All you have to do is follow the following steps. If you follow these steps you can easily lose the frizz. There are the following treatments for this problem.
Wrap a warm humid towel around your hair
WAVOIhen you have a bath wrap a towel around your hair. Wrapping a towel around hair helps to increase the humidity in hair. It helps hair to repair its injuries and regain a fresh look. Wrap the towel around your head for at least thirty minutes.
Some people do not have a habit to put a cap on their heads. Females usually wear s scarf on their heads to cover their hair while going outside. But men are not used to putting a cap on their hair. But due to the Frizzy hairs problems, you have to put a cap on your hair while going outside.
Cap to allow the direct contact of dusty air with your hair and let sweat in your head. The sweat that appears on your head keeps your hair humid and moisturized. In this way, the hair remains away from getting dry and rough.
Use of safe and medicated products
Only famous and trustworthy products should be used on hair. if you are unable to find a suitable product for your hair all you have to do is to consult a dermatologist and use medicated products. Use the prescribed procedure by your physician.
There are many kinds of anti-frizz products available in the market. Just go and buy a suitable product for you.
Avoid drinking alcohol and using drugs
People who use alcohol frequently have this problem. Not only hair problems drug and alcohol users also have to face any kind of problems. so if you want to get rid of Frizzy hair first you have to stop drinking alcohol. The use of drugs must also be avoided. The abuse of these things destroys the natural state of your organs both external and internal.
Apply hair oils to your hairs
Hair oils have been found to be famous for the moisturization of your hair. About 70% of the problem stays away from your hair if you perform proper oiling of your hair on regular basis. The use of coconut oil is the best for shiny hair. If your hair has lost its natural shine and is frizzy then apply a coconut hair oil directly to your hair so that your hair can regain its lost shine. oils provide nourishment to your hair and keep them strong and safe from problems.
Lastly, if your problem is still unsolved then go to a dermatologist. The dermatologist will keep a complete examination of your hair and will prescribe you the best procedure for your hair to repair again. All you have to do is to use his prescribed procedures and have beautiful, shiny, and frizz-free natural-looking hair.
.