Having Long Hairs is a blessing from GOD. It is the dream of every girl to have long shiny and beautiful hair but people find it difficult so here we are to provide you with tips to get long hair naturally. All you have to do is just follow the instruction and take great care of your hair and the result is healthy natural looking hair.
2-Use oil for hair Growth
A gentle massage of oil into the root of the hairs increases the penetration of air into the hairs and increases the circulation of blood through the hair follicles and the result is enhanced activity of hair follicles which let the hairs grow faster and keep them healthy.
3-  15 Best Oils for hair growth
Here are some essential oil that can boost the rate of your hair growth and give you shiny thick and healthy hair
Almond oil
Castor oil
Mustard oil
Black seed oil
Olive oil
Garlic oil
Coconut oil
Rosemary essential oil
Grapeseed oil
Onion oil
Argon oil
Amla oil
Bringharaj  oil
Tea tree oil
Peppermint oil
4-oil your hair twice a week
First, oiling the hair gives them a pure and healthy look. Hair growth is increased by the application of hair oil. The message is done on your scalp the circulation of blood is regulated and the hair follicles become active hence hair growth is boosted.
1-Soak your finger in the oil
2-Gentle message the oily fingers into the hairs root
3-A hot oil message lets you feel relaxed and boosts the hair length increasing process
4-Message for 10 minutes
5-Wrap us your heat with a warm towel
6-Have a lukewarm bath
5-Focus on scalp care
Moreover, the scalp of our hair roots is very sensitive to the attack of bacteria and fungi. these are the microbes that penetrate into the hair roots and don't let the circulation of blood through the hair follicles cause itching and make your hair look dry and unhealthy. they just stop the growth of your hair and are also the major and leading cause of dandruff. for getting long and healthy hair what should you need to know is all about taking care of your scalp and keeping it away from bacteria and other fungi. Further, the best way of scalp care is the proper oiling and gentle massage and washing your hair regularly with the best shampoo or medicated shampoo if possible.
6- Avoid heating your hairs-heat protectant for hairs
Second Heating your hair to be straight or curly damage your hair badly.
your hair is made up of the following different constituents which include 79% keratin which makes the most of the part of the hair secondly the major component of hair after the keratin is it contains about 17% water and the remaining 4% is the fats and oil.
the inner part of your hair is the cortex which is made up of the bond of keratin so when you heat your hair the shape of the keratin bond is changed resulting in rough dry frizzy hairs.
use the heat protectants and let your hair don't lose their natural shine
7- Avoid hair sprays What does hair spray do to hair?
Hair sprays are basically made up of polymers.  Create a virtual net of hairs in your hair when it is applied to the hairs. Moreover, it damages the hair as they become tough and hard and loses its natural flexibility and becomes stiff and hard and the result is the hair damage.
Long term use of these kinds of sprays may cause permanent lose of your hairs natural look and your hair becomes dependent upon external medication which is going to be costly day by day. So now is the time to take steps and avoid using this thing.
8-Trim your hair regularly
The cut of 1/4 to 2 inches end of your hair is called trimming
Moreover, Trimming is becoming popular nowadays as there is no kind of hairstyle change it is just the cutting of ends of hairs that have become two-headed and are now unable to grow further. Regular trimming of your hair helps you to enhance the rate of hair length growth and lets your hair breathe in a super fast-growing environment. there are many advantages of having trimming done as the end of the hair is cut down the hair ends are now ready for further growth.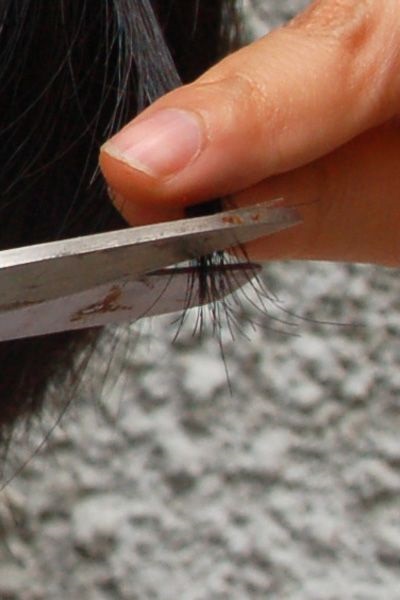 9-Be hydrated
Further, Water is the main constituent in the human body. And plays a major role in all the biochemical reactions that occur in living cells. and maintain a stable metabolism in our bodies.
Furthermore, It is dangerous to get deficient in water level in our body. Dehydration leads to very serious and uncommon problems and one of which is a dry scalp. The scalp is the area for your hair to grow. When it is not healthy and hydrated it is impossible to get healthy shiny and long hair. A strong metabolism is required which is done by being hydrated. Further, Maintain the level of water in your body to have long and shiny hairs.
10-long hairs
Moreover, By following the above suggestion you can have healthy shining long natural-looking hair.  Everyone wants to have a decent look and our hair forms a major part of our looking styles. Further, If they are not smooth and shiny then one's personality loses its charm and results in the dullness. Just take great care of your hair and enjoy the charms of life. Oiling messaging and trimming are the best practices. Further, These are needed to be done in everyday life to reduce the risk of hair problems.
Lastly, If you don't care about this thing your hair will get dry and lose its shine sooner in early life. Moreover, If your hairs have some kind of genetic issue or any serious kind of problem then please consult a dermatologist. And use his prescribed medication such as a medicated shampoo or ointments or any kind of drugs referred by your physician.
Have long shiny hairs